This pack is built to take it
Our daypak is an all purpose, versatile pack which works well in a variety of applications.
Take super-tough, 1000 denier cordura and fashion Three zippered compartmentss; a full size, half-size and quarter-size and you can organize and carry anything from bulky parts to your lunch and thermos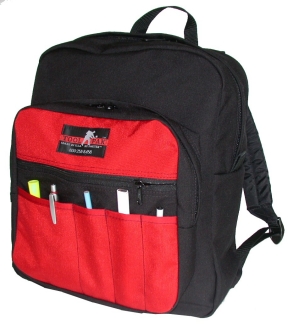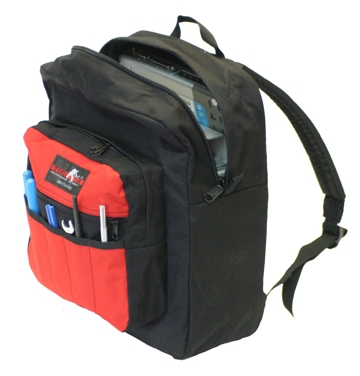 .
·

Completely redesigned; tougher, more ergonomic.

·

Made of waterproof, 1000 denier nylon.

·

New! Double thick layered bottom.

·

Comfortable padded back panel.

·

Heavily padded triple-sewn shoulder straps.

·

Top handle strap.

·

Large main compartment.

·

2 zippered outside compartments.

·

4 easy-access external holders.

·

Double-sewn, covered inside seams.

·

All black with a red accent front panel.

·

Dimensions: 18" X 14" X 10"

·

Volume: 2520 cubic inches.

Ideal day-hiking backpack.

Other Uses... Got kids who can destroy those wimpy bookbags?

Get them this industrial strength DayPak. "..it's the 3-year Champion of "SMASH", the junior high game of colliding book-filled, school packs..", says Aaron Farland of Vancouver, Washington. No comment from Aaron on how the books fared.

Remember: They're even guaranteed for a year! A 24/7 Customer Service number is sewn on the front. Match that with a discount store special!