versatile case for coins to guns

This softCase was originally made for vending machine maintenance as the perfect vending machine, 1000 quarter, coinbag, but then found itself as a truely versatile case. Customers have used the Softcase as a discrete organizer to protect guns and gun- shaped gear; including; all types of gun-shaped tools, spray guns, thermometerss, pneumatic tools, drivers and the like, as well as starting guns, navigation electronics, radios and walkie-talkies and even first aid kits. Talking versatile, here.
Here are the features of this simple, versatile organizer;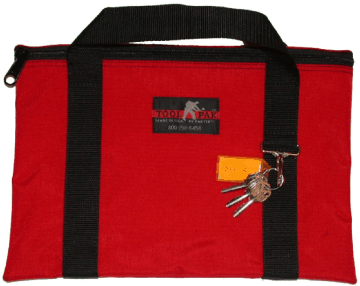 ·

Made of tough 1000 denier dupont cordura

·

Wrap around handle made from 2 inch nylon webbig supports weighty loads

·

a keyring loop for keys and a lable to identify each SoftCAse Contents

·

Large, #10 ToolPak Zipper with large teardrop pull

·

for vending applications, attache the access key to the keyring loop. The coin tray fits easily into the bag for easy emptying of up to 1000 quarters.

·

dimensions:

·

12 inches tall and 16 inches long.
·Custom embroidery available