keep your gear together and where it needs to be--with you.
This ToolBelt's sleek design is perfect for confined location, like in the Ape Caves or bushwhacking through the forest or just kicking around. (The Apes Caves are the lava tubes on the south side of Mt. St Helens, legendary home of the Sasqwatch.)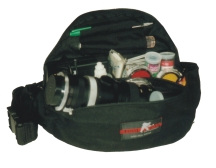 The Toolbelt features soft-sided construction that conforms to its contents, allowing it to be sleek and streamlined.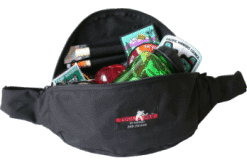 The sportpak toolbelt features include;
·

3 internal compartments

·

Double layered lid with three tool holders

·

2 inch quick release waist buckle

·

Waist Strap adjusts to over 50 Inches

·

Made of tough 1000 denier nylon

·

On the left, we outfitted this one for a day of Patch trading at jamboree; water bottle, lunch, spray sunscreen, pen and lots of patches.

·

Dimensions: 12" X 6" X 6"

·

Volume: 216 cubic inches.

Ideal Applications:

·

sportpak toolbelts are ideal for carrying tools where it is crucial that they do not fall out or strike the surroundings. Moving through narrow passageways, climbing scaffolding or ladders, or crawling under, over and through obstacles, like people.
This toolbelt went to the BSA National Jamboree.


Carrying Options:

·

Some carry the sportpak toolbelt like a pack, over one shoulder or bandolier-style over one shoulder and under the adjacent arm. Others are more traditional, wearing it around the waist with the pack in back or front.
Many find it very comfortable centering it over one hip.